This is just a a starter guide for people that are new to the Median XLU Mod and i decided to write this because it seems like a lot of people starting new are struggling with the information overflow that the Forum/Documentation offers. So here is some basic knowledge and suggestions.
First of all, these are just suggestions so feel free to explore the game yourself. This is just a list of builds that are relatively easy to make work.
Leftovers skill points can be used for what ever you like.
Druid:
Trap Rat --> TLDR: high dmg output, block, defense, life, strong but a bit onesided gameplay
Caster Druid --> high dmg output, summons to tank because ur squishy
Paladin:
Unholy Caster --> decent dps, high life/defense,tanky summons
Amazon:
Bowzon --> fast move and attackspeed, long range, high damage, squishy so kiting required
Necromancer:
Crossbow
Totemancer/Caster: --> minions to tank, high damage output, safe build, early acces to teleport
Sorc:
Lightning Cold Sorc --> summons, life, def, dps
Poison Cold Sorc --> summons, life, def, dps
--> farm the
Gift box
several times, because of the different drops Tier 1 and Tier 2 drops possible.
There are 4 Character level Challenges that are needed to be done at or below a certain level, so it is important to know about them.1. Level Challenge 0: Level Requirement 5 (Exactly)
Transmute the statue that you got in your inventory from the beginning once in your cube, this will give you a summon skill
Use the summon skill in an open and clear area, kill the traps around volrath first and then Volrath while avoiding the lightning.
Transmute the charm + gem that drop to get charm bonus.
2. Level Challenge 1 Tran Athula (50 or below):
(Description out of the Doc:)
Go to the Tran Athulua uberlevel on Hatred difficulty, defeat the Pirate at the entrance to get the Sunstone of the Elements.
Find and defeat any of the three Priestesses. Each will drop her Sunstone. Cube it immediately while you have the red swirls on you. This will upgrade your Sunstone of the Elements, if your level is low enough.
You have 30 seconds to cube the sunstone with the Sunstone of the Elements after killing the Priestess, so keep your cube empty! This will add bonuses to it.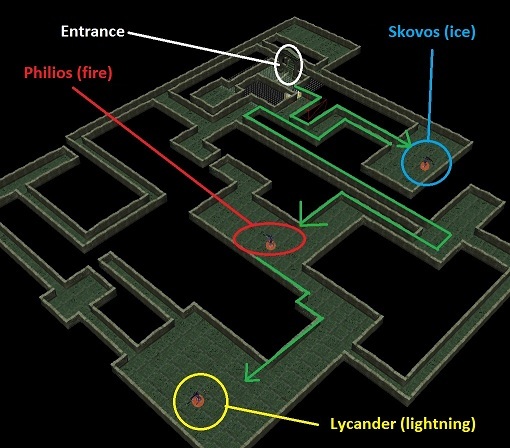 3. Ennead Challenge: Kurast 3000BA (80 or below):
Kill totems to make purple units vulnerable, each necromancer drops random class charm. Find the one for your char and keep it.
4. Level Challenge 2: Valley of Snakes (90 or below):
(Description out of the Doc:)
Do the Binding of Baal uberquest on Terror difficulty and defeat Tal Rasha.
This will trigger the whirling effect. Cube your Class Charm with a perfect gem to receive additional bonuses if your character level is low enough.
You have 30 seconds to cube the Class Charm after killing Tal Rasha, so keep your cube empty.
Requires: Book of summoning ( 3 hearts + 3 candles transmuted)
Destroy spare unique or set items to create Arcane Shards and combine these into Arcane Crystals, which are required for other cube recipes. You cannot disenchant both unique and set items at the same time.
More info
Any unique item x1-10 + Catalyst of Disenchantment → Arcane Shards x1-10 + Catalyst of Disenchantment
Any set item x1-10 + Catalyst of Disenchantment → Arcane Shards x1-10 + Catalyst of Disenchantment
Arcane Shards x5 → Arcane Crystal
Any non-sacred item + Oil of Enhancement + Arcane Crystal x2 → reroll item as unique
Unique non-sacred weapon/armor + Arcane Crystal + rune → reroll as next higher tier
1x Arcane Crystal + Item (Tier 1-5) = Item (Tier +1)
!!!
Keep all uniques to make shards no matter how bad the item is ( does not work with items from grisworld Box)
Magic weapon/armor + Meditation Candle + Sacrifical Heart → return item as honorific (Orb Effects Applied to this Item are Doubled)
Item + regular mystic orb = Item + orb bonus + 2 additional level requirement (up to 15x of the same kind)
Book of summoning ( 3 hearts + 3 candles transmuted)
Socketed item + Oil of Disjunction → separate item and socket fillers
Non-magical and runewords: Socketed item + Oil of Disjunction + perfect gem x3 → separate item and socket fillers
Item without socket + X jewels = item + X sockets
--> number of sockets is capped --> tier 1 items cant have 6 sockets
Mercenaries are not needed in the game, but are very helpful .
The choice of Mercenaries depends on needs and the role they have to fullfill__________THE SISTERS__________
Ranger
She is fairly offensive that focused on physical damage. However the AI a bit stupid, like casting barrage when it clearly cant reach the target. Once she have the warspirit, she is a pretty good proc-machine. She however is a bit fragile without survival skill.
Recommend for :
Melee class either Flat-WDM or caster, tanker, summoner
Priestess
A bit more defensive than Ranger. She quite a supporter type that cast couple spell that useful for summoner. However her Pagan Rites might clash with any build that rely on corpse.
Recommend for :
Caster, Summoner
__________THE TOWN GUARD__________
Exemplar
Exemplar is self-sustained melee fighter that doesn't require much attention or your potion. His skill-set pretty much allow him to focus on either crowd control or passively dealing WDM attack. Physical immune is not a problem for him as both Retaliate and Disintegrate dealing magic damage.
Recommend for :
Ranged / Fragile Class
Shapeshifter
Shapeshifter is one of tankiest mercenaries by having large health pool. However he lacked of regen skill, so he need to rely from your potion or having large amount of life leech. Bloodlust is a good all around damage buff that affecting all your allies.
Recommend for :
Caster, Summoner
Fighter Mage
Figther Mage is one of excellent mercenaries that focused on crowd control. His skill set focus multi hitting WDM skill, so he also is good to become a proc machine. With chronofield and glacial Nova, player can just focus on offensive
Recommend for :
Ranged class, Summoner
__________THE IRON WOLVES__________
Bloodmage
Bloodmage is caster mercenaries that help a lot for sustainability with his Gift of Inner Fire skill. His skill focused on fire and poison making it excellent as alternatives damage dealer for immune. However most of his skill are designed for short range, while he mostly try to be far away making his skill a bit waste.
Recommend for :
WDM, Cold / Lightning Caster, Summoner

Necrolyte
Necrolyte is mercenaries that excellent in crowd control and dealing spell damage. He is focused on cold and poison as well as able to manipulate the enemy with charm. However he need a proper tanker to making his spell able to hit properly.
Recommend for :
WDM, Tanker, Fire / Lightning Caster

Abjurer
Abjurer is least favored mercenaries. His skill set focused on lightning damage debuff on enemy. Although he have faster breakpoint compared to other iron wolves, his main skill are not designed for long range making he deal lesser damage then he capable of.
Recommend for :
WDM, Ranged Class
__________THE BARBARIANS__________
Barbarian
He is powerful melee fighter with decent skill set and able to summon minions. He also have quite good %stat gain, making him good in dealing physical damage at higher level. Shower of rocks and Ancient Hands is proven powerful AoE WDM skills.
Recommend for :
Caster, Summoner.
Gold is quiet a struggle in early game for some people, here is how to make easy cash:
1. sell apples if you dont need them for life leach bonus, but wait until you are in a2 because of max sell value.
2. pick up every rune that drops in early stage of the game, buying a socketed flying knife/axe from for example akara/drognan and putting a rune into it will end up in ridiculess high selling prices depending on level of the rune.
--> here applies the same rule as well, the max selling value is capped at 10,000 in a1.
3. kill cave snappers/grubbers running around in a1/a2.
- act 2: staff drops in Claw Viper Temple --> avoid maggot lair .
- act 3: full khalim flail drops in travi --> avoid spider cavern etc.
- most of level 2 caves, dungeons that are not connected to main quests are replaced by uber levels --> avoid early game if you dont want to die.
- leveling is not a "problem" in median, you will get your levels by rushing through acts, but if you want to make good xp do terror/destruction cows.
-use
short question thread
to ask questions here on the forum.
- walk! --> running will result in 0 defense.
-Normal monster: 1/4 Melee, 1/8 Ranged Attack.
-Boss/Champion monster: 1/8 Melee, 1/16 Ranged Attack.
-Deadly strike/Critical strike:
Chance to double damage
-ZOMG Recipe:
Magic weapon/armor + magic amulet + magic ring → reroll item as level 1 magic item
This recipe is useful for making replacement for your honorific as you can roll lvl30 sacred cafted
-Elemental pierce:
Elemental pierce ( - enemy resist ) is one of the most useful stat in median. Monsters do have resist between 0 and 99 ( 100+ is resist )
do not underestimate having -99% to enemy resist --> -199 for bosses/ubers
-Life leech:
Hatred: 25% of your life leech is applied
Terror: 7.5% of your life leech is applied
Destruction: 2% of your life leech is applied
-Avoid these:
Thanks to
Rishab,WolfieeifloW,v1nc3nt
for optimizing/suggestions