I have been long hiatus as I was on holiday for a week & I have been grinding pvp stuff in Destiny 2, made it harder to watch anime + gaming at same time. So this time i just switch to grind something else leisurely so i can focus on the anime more.
---
Im too old for this stuff already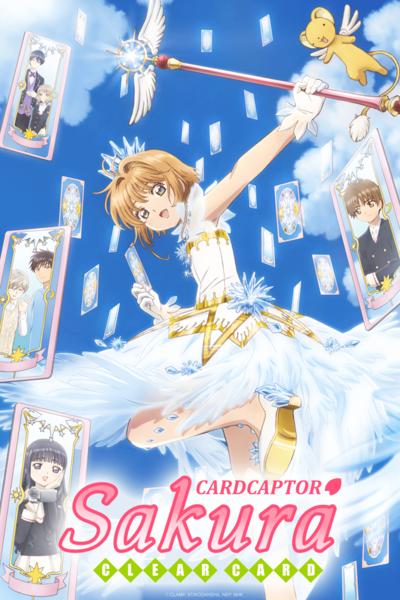 Title : Cardcaptor Sakura: Clear Card-hen
Cardcaptor Sakura: Clear Card
Genres: Adventure, Comedy, Fantasy, Magic, Romance, Shoujo
I will be honest that I didnt fully watched the original season of the series back in 1998. I have 70 episodes and Im pretty much just watch once a while during weekend in my house. I dont think I have read manga either, so this will be pretty much blind impression review despite i watched some ova / movie from this franchise.
First of all, apparently this is legit manga based source material which was released in 2016 by same group (not sure same artist / person or not). Thus this is kinda modern continuation of old series. However I observed that it not exactly follow closely as I saw some technology gap (mainly the drone camera & social media) which wouldnt exist in early 2000. As for the anime production itself, it pretty above average for this kinda show especially for the magical transformation & fighting scenes. The voices sound very similar, at least fit the character at least as i remember from the movie.
So what is the issue with the series? It too formula-ic in the beginning with monster of the week concept & usual lengthy transformation. Most of the characters interaction are cute, but somehow i feel like this is kinda old and not realistic at least now she is now in middle school. There are some hidden plots sprinkled early episodes, but it only took solid form in last couple of episodes. As for fighting scenes, I feel it is kinda lack luster because once she capture a card, she able to fully utilize the cards at least to take down tough opponent, but she didnt.
And worse part about this "sequel" is that the anime adaptation ended in FREAKING CLIFFHANGER. I see cant the justification of why im watching this new series aside from "this will be answered in the next season". This left sour taste in my mouth. I was bored the whole freaking season and you ended like this.
Alternative : No alternative atm as I really had migraine while marathoning the series. Considered any other Slice of Life or CGDCT (cute girls doing cute things) to be similar as this series lacked the dread / heavy plots like i wanted.
---
Gun Porn Online Alternative
Title : Sword Art Online Alternative: Gun Gale Online
Genres: Action, Fantasy, Game, Military, Sci-Fi
Spin off is one of the way to expand the original / premise of specific franchise. You can make alternative timeline story of main characters or introduce some new main characters as well as new storyline to re-use the existing franchise setting. This anime fall as later part of the spinoff.
As my quirky notes above, this is more about military tactics & strategy using gun while playing VRMMOFPS. While it tried to be as realistic as most of military combat, this is still fall under unrealistic video games combat with stuff like bullet line or aim assist. As much as i love to believe that you can translate your real life skill into video games, there are still many stuff in the anime that feel broken or have been writing out of thin air. It doesnt make sense? No worry, it is just part of game coding.
As for animation quality itself, i would say that this anime is slightly above average. The whole series feel small with just 2 big arc with some real life stuff added to it. While their game characters seem like pleasant to watch, I feel liked many times their personality arent just matched with their online avatar. In the beginning, despite there arent any life & death situation like original SAO, the battle royale do feel intense as they try to uncover enemy tactics & strategy and trying to counter the strategy.
This is pretty much a short popcorn anime series. It doesnt offer any grand and memorable despite I truly enjoy the series. Granted the plottwist about the villain is pretty much predictable since the beginning, but I guess it was still a fine conclusion for the series.
Alternative : This video gamey premise remind of video games anime like Bofuri or Netjuu no Susume. If you want other anime with cute girls & military tactic, then I recommend to watch Girls & Panzer. For last recommendation.... just watch Darwin's Game for survival games ish feeling.